The use of essential or aromatherapy oils in rituals is a deliciously pleasant practice! Choosing a variety with your favorite scents adds an earthy celestial aura to your rituals. For literally eons, humans have used plants, flowers, and wood for both their medicinal qualities and for their ability to induce spiritual experiences. Using essential oils is a part of my daily routine to maintain spiritual, mental, and physical balance. I hope to show you how they can help you balance your life as well.
Burning specific types of plants, wood, or oils is a practice handed down since long before recorded history. Smudging is one example of this practice. But, another wonderful example is the burning of aromatherapy oils. For ritual purposes, the practice we recommend is diffusers, candle burners, or warm water. With these methods, essentially, you vaporize the oils and release their healing qualities into the air around your spiritual ritual space.
Another benefit is in the wafting aroma in the air after your ritual is past. This serves to extend the effectiveness of your ritual as the scents linger on for hours.
When talking about essential oils, however, we must include an array of rituals for those who are more adventurous.
Step One • Add to Your Bath
Turn your bath time into a sensuous ritual by adding drops of your favorite essential oil and swirling it around. Then, settle in with a comfy neck pillow, relax, and enjoy.
Step Two • Blend with Your Massage Oils
How encouraging it is that some rituals include massages at the beginning and ending of a nighttime ritual. Create your own massage oils by blending your favorite essential oils with a carrier oil.
Take a look at the chart below for the best spots to apply essential oils topically.
Step Three • On a Cotton Ball or Kleenex
There are times when you need to stop and collect yourself and regain your composure. Think ahead and keep a few cotton balls or a small Kleenex handy along with a small bottle of your favorite essential oil. It's so nice to be able to take a quick moment to turn your day around with a whiff of heavenly, earthly fragrances.
If you have any further suggestions or comments, we'd also love to hear from you in the comments below. Thank you for visiting today and remember, together we light the way to relieving the anxiety and stress from trauma by achieving spirit, mind, and body balance. Namaste! Warmly, Susan
Below is a list of my favorite essential oils.

Essential Oils for Spirit • Mind • Body • Balance
Jan 18, 2021 - beautifullivesbysusan.com -

0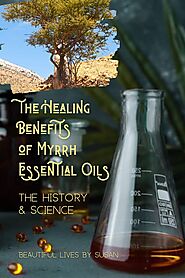 Myrrh is the dried sap from the Commiphora myrrha tree and native to SW Asia and NE Africa. Learn the benefits of Myrrh Essential Oils.
Jan 18, 2021 - beautifullivesbysusan.com -

0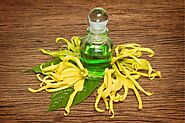 I welcome you to this article about learning the beneficial uses of ylang-ylang. Let's begin by discovering where it's from and what it is.
Dec 21, 2018 - beautifullivesbysusan.com -

4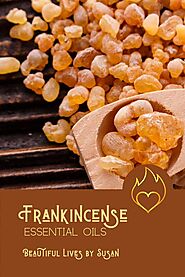 Frankincense is one of the most precious essential oils because it has very special health bonuses. With its warm, spicy, clean aroma, it pleases everyone.
Dec 21, 2018 - beautifullivesbysusan.com -

4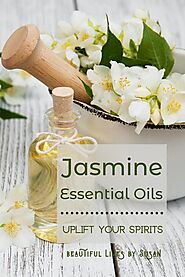 The scent of Jasmine has been a favorite of mine since the mid-70s when Ciara was my favorite fragrance. Learn about the myriad of benefits from Jasmine.
Dec 21, 2018 - beautifullivesbysusan.com -

4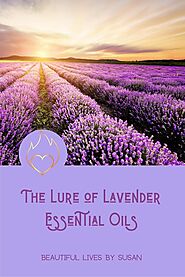 Lavender is not just your grandmother's scent. The lure of Lavender includes a myriad of effective uses that make our lives easier.
Dec 21, 2018 - beautifullivesbysusan.com -

2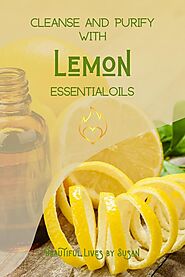 Lemon essential oil cleanses, purifies, invigorates. As a result, it is one of the most versatile oils available on the market today.
Dec 21, 2018 - beautifullivesbysusan.com -

6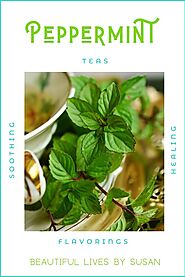 I successfully use Peppermint essential oils to relieve anxiety on a regular basis. Peppermint adds clarity to thought processes among many other wonderful benefits.
Dec 21, 2018 - beautifullivesbysusan.com -

6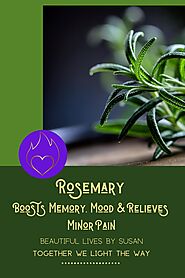 Rosemary is an aromatic herb that is used regularly in our cooking routines with meats and vegetables. Rosemary can be grown at home!
Dec 21, 2018 - beautifullivesbysusan.com -

3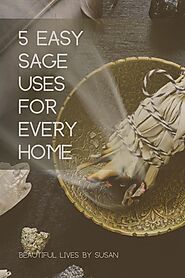 Sage has been used for thousands of years as a medium for spiritual cleansing of an area or place. Burn sage to clear energy and restore balance.
Dec 21, 2018 - beautifullivesbysusan.com -

4
Turmeric has been used according to recorded history for more than 5,000 years as a spice and antidepressant. It also contains other medicinal properties.
Resource for Blessings and Rituals
a
Other Posts in this Series:
Other Posts You Might Like: