Welcome to Beautiful Lives by Susan
Beautiful Lives by Susan is a lifestyle change blog about Post-traumatic Stress Syndrome. With this website, I strive to provide resources to assist those who seek knowledge about this topic.
It is my passion that kindred spirits are inspired to follow a journey of healing that teaches us to make life decisions based on love and hope, not on fear.
My diagnosis for PTSS came after living with it for over 50 years. At last, after decades of searching for answers about why I felt and reacted so differently from most people around me, the answers become more clear with each new day.
Is it late in life to start over again? Not at all! It is never too late. With the right tools in place, good motivation, and a positive attitude, we can start over whenever we find ourselves in a position to do so.
So, join me on this journey to let go of past fears as we move forward together with new information, hopes, and dreams.
What We Believe
We believe that all spiritual paths lead to the light of eternal love.

We stand in support of all survivors of traumatic events.

We promote good nutrition to gift ourselves the strength to heal.
Introduction to EMDR • Eye Movement Desensitization and Reprocessing
The therapist who correctly diagnosed me after all these years also introduced me to Eye Movement Desensitization and Reprocessing (EMDR) treatment. From the first session, I found relief from stress. There is no easy answer for PTSS but EMDR gave me a fresh perspective which is so amazing because I had literally given up hope.
But, thank goodness I was not fully informed because there is always hope and I am living proof. In addition, I believe that all paths lead to the light of love, compassion, and understanding so naturally, I invite people from any walk of life, belief, or age group to join me.
Recommended Reading
Getting Past Your Past: Take Control of Your Life with Self-Help Techniques from EMDR Therapy
Spirit • Mind • Body Balance
Today, each day is full of the pursuit of balance in all things that I do. Writing about my journey helps keep me in balance and it is my wish that each reader finds some measure of comfort and encouragement.
Our slogan is: Together we light the way through the after-effects of trauma as we heal and manifest our beautiful lives and nurture our eternal spirits, beautiful minds, and healthy bodies.
Other Posts About Susan

My Back Story by Susan
This is a list of posts on Beautiful Lives by Susan that tell a little bit more of my personal story for those who are interested.
My story is a long one that spans 65 years, so this is a brief introduction to why I manifested this website and why I write. First, I want to thank you so very, very much for visiting. Second, it is my hope that you add your voice to mine so that together we light the way through trauma as we heal and manifest our beautiful lives with spirit, mind, and body balance.
My Great-great-grandmother Rose Daniels was Navajo. This was hidden from me for most of my life. So now, there are traits about me that make sense.
The illusion of control of one's environment, be it things or people, is fear based, not love based. It wears away at the soul of the controller.
Past fears sometimes overwhelm me and ruin my entire day. The truth is, I never know when I will get struck by an old experience that throws me for a loop.
What about the perpetrators in our lives? How are our lives shaped by perpetrators? Read this article to earn more about it.
I was born into a family of generational trauma and the subsequent continual crisis that goes with it. Read to learn more about generational trauma.
Do you feel exhausted from a lifetime of secrets that sometimes wear away your will to go on? Are there secrets that you are afraid to talk about?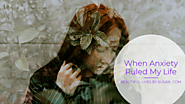 Now, I look back and clearly see the anxiety I lived with on a daily basis throughout my life and therefore, how anxiety ruled my life.
When I was living in a homeless shelter a few years back, I came to know the prejudice against poor people. It is shameful the way society treats them.
Seasonal affective disorder is a period of depression that happens during the winter months, when the days grow short and you get less and less sunlight.
Meditation is an excellent source of relaxation after or before a stressful event in your life.
Identify with those who are seemingly not in your 'social realm' and prepare for the backlash. You see, ignorance has no boundary.